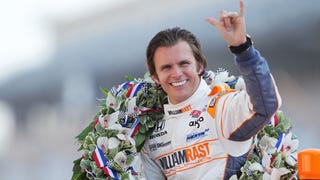 For many, myself included, the wounds that appeared to heal have reopened today, displaying a rawness within that still remains. It's been a year since the tragic accident at Las Vegas Motor Speedway that took our friend Dan Wheldon. And while we will never forget that heartrending day, reliving it in memory is…
Following Dan Wheldon's death at the IndyCar race in Las Vegas on Sunday, his fellow drivers mourned the loss of their friend — then began to talk openly over Twitter about organizing themselves to push for safety changes.
UPDATE! As if the Dan Wheldon story couldn't get any sadder, a Las Vegas newspaper columnist claims Wheldon and his wife Susie got matching tattoos the night before his fatal wreck at yesterday's Las Vegas Indy 300.
Tony Kanaan wins the IndyCar race here at the Detroit Grand Prix, and Danica Patrick took second place in her best ever finish after a shocking last lap and a half. Just before the white flag came up a number of drivers were involved in some "contact" that included "the wall" and "other drivers." Oh and Dan Wheldon…
IndyCar warm-up just finished, and the only news of note was Dan Wheldon in the #10 Target car. Wheldon managed to get himself into a bit of a dustup with a wall (Ben thinks it was another car, but neither of us is really 100% certain — the point is he dirtied up his car) in one of the later practice laps. We're…

Dario Franchitti went for what can only be described as a frightening ride flight at Michigan International Speedway yesterday as Franchitti's car got touched hard in the rear by Dan Wheldon on lap 143 of the rain-delayed Firestone Indy 400. We're told Tony Kanaan won the race — but the highlight's got to be…
Dan Wheldon, Scott Dixon and Sam Hornish, Jr. A podium finish for Hornish — our man Wert's fast-driving doppelg nger — not to mention a championship for the Indianapolis 500-mile champ and his boss Roger Penske. Congrats to Sam and Roger, not to mention more incentive for Ray to walk around the Detroit Metro area in a…