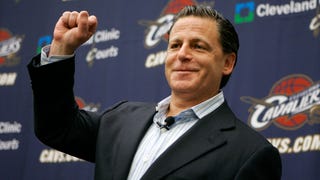 Local billionaire Dan Gilbert has no tolerance for "degenerates" who trash his city. So he's on the lookout for a trio of young women who spray painted "welcome to Detroit" and some profanities in a Detroit alley recently.
Love him or hate him, local billionaire Dan Gilbert knows what to say to get Detroit talking. At the Mackinac Policy Conference, an annual convention where Michigan journalists pay $2,000 to endlessly tweet selfies with semi-famous people on a car-free island, Gilbert suggested the idea of an automotive-themed…
Dan Gilbert owns all of the things in Detroit. And he's reached a point where if you live here, you probably can't go an entire week without throwing some money toward his massive empire. In due time, Detroit's two papers of record will be among Gilbert's debtors as they move into one of the several buildings he owns…
If you needed even more conviction that Dan Gilbert has an Uncle Scrooge-like vault of money that he swims around in, look no further than this recent promo from his Quicken Loans outfit: The mortgage holder is giving away $1 billion to whoever produces a perfect March Madness bracket.
If there were a way to do a Valleywag Detroit offshot a la this space of the Internet here, it'd be possible with all the TED-type conferences that happen in Detroit around this time of year.
Serman's, a Detroit tailor old as the city's industrial age and has weathered through it all this time, is closing its doors after 96 years, WWJ reports. Cleveland Cavaliers owner and local missionary Dan Gilbert is reportedly behind the store's ousting.