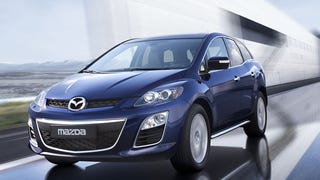 The Mazda CX-7 crossover isn't yet due for a complete revamping, so they hope you'll accept this 2010 Mazda3-esque facelift.
It's big, it's white, it's fuzzy, and it may be a facelifted 2009 Mazda CX-7. Or it may be the cryptozoological find of the century — we can't really tell. A forum member over at GM Inside News posted this image last night and we're pretty sure it's the freshened middle-child SUV from Mazda, but it may also turn out…
The Tokyo Auto Salon — Japan's tuner extravaganza — will again hit Makuhari Messe this January, and Mazda's already begun teasing. The company announced it was bringing 17 custom cars and tuner models, including two takes on the CX-7 crossover set to debut in Japan this month, dubbed the "Bright Stylish Concept"…
Why You Should Buy This Car: You like sitting up high, but need a semblance of sport from your car. You think "drug-addled catfish" is the new design chic. You're five-and-a-half feet tall and prefer just to step sideways to get in and out. You need to lug a few cases of wine home after the Thursday-night tasting.
Exterior Design: **
If you were to show the CX-7 to people back in the 1950s, they would nod knowingly and say, "The future!" To people in the 1980s it would probably look like a Pontiac prototype. To 2006 eyes, it looks like the offspring of an incestuous union between the Nissan Murano and Infiniti FX, who —…
Things that do not interest me: children or the hauling of, dirt, rotten fuel economy, jet skis, trailer hitches, rolling over and sitting in high chairs. Things that do: acceleration; going really fast and feeling stable while doing so; turning left and right, and stopping. All of that, and a satisfactory outcome in…

Despite visual evidence to the contrary, the new Mazda CX-9 crossover SUV is not the same as the Mazda CX-7 crossover SUV. True, they look quite similar...and the PR material for one appears to always mention the other, but Mazda assures us the two are totally different vehicles...the only apparent difference is…
Mazda pulled a fast one and unveiled the CX-7 crossover at LA, after announcing the car was slotted for Detwa. We think it's a good-looking little faux-truck thingy, and if the company's recent offerings are any indication, it should be a capable on-road ute. But the part of the display that surprised us most was the…
Later today, Mazda will introduce its CX-7 crossover at the Los Angeles show (where Davey G. will be covering the action for Jalopnik with his digicam at the ready and the full H sker D back-catalog on his iPod). The CX-7 first appeared at last year's Detroit show as the MX-Crossport concept, and the resulting CX-7…
Mazda just released an outline of its plans for he Detroit show next month, and confirmed it was indeed unveiling a concept sport coupe, in addition to launching its new CX-7 crossover. Word of the coupe's existence was leaked last month by a tipster to AutoSpies who had attended a focus group to gauge the market…
Though Mazda's not talking, its recent trademarking of the name "CX-9" in the US could mean the company is looking at a new model above its upcoming CX-7 crossover (see Ford Edge, Lincoln Aviator), as AutoWeek is reporting. The CX-7, set to launch at the upcoming Detroit auto show in January, would likely be…
Leave it to an ex-blogger like Dave Thomas, new online editor of MPH's Web site, to understand how to pull our marionette strings. He's added some new new, full-frontal shots of Mazda's CX-7 crossover, son of the Crossport concept, on the heels of yesterday's bootylicious photos. Do we bite? Of course! It's…
Mazda is doing a damn fine job of transforming the radical Crossport concept it debuted earlier this year into the CX7 production model due to drop sometime in 2006. As this spy shot, taken from the hot-pursuit position, indicates, the production tester will retain nearly all of the concept's outward body sculpting.…