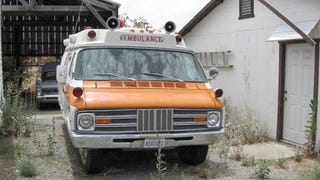 When you drive an ambulance, people tend to get out of your way. For today's Nice Price or Crack Pipe 1974 Dodge Superior, they'll have to clear an especially wide path, but that's only if its price is equally phat.
Nothing says it's 1970s like the line of custom vans sitting in front of Hayward Dodge in Hayward, Ca. We found this gem while looking through the awesome gallery of vintage car dealerships where we found yesterday's picture of Lancaster Lincoln Mercury.
As mentioned in our review, buyers of Nissan's NV commercial van can use an online graphics-package configurator to custom-wrap a new truck for business. If they're descended from '70s vanners, they'll likely take another style direction.
Tired of relentless Geneva Motor Show coverage? Us too! That's why we're here at the 2009 Detroit Autorama soaking up rad rods and cool customs. In an effort to be radically contrarian, it's custom vans!
The other day we showed you some cute little Japanese Kei cars converted to look like vintage American vans. Turns out they were the creation of a company called Dream Factory Blow. They're sort of an American-style surfing-obsessed customizing shop, but since they're in Japan, they work their magic on JDM rides.…
We have received the sad news that Greg of Akron, creator of some of the most super-cosmic custom vans of the Van Era, died last week at the age of 66. Since he was such a crucial cultural icon, we think the US Postal Service ought to issue a special commemorative stamp with some of Greg's artwork; email them and join…
Hang on to your mood rings, swingin' studs and feathered foxes, because Murilee's got himself a 1975 JC Whitney catalog! And within that catalog are some wonderful things that make me get back to work on the half-finished time machine in the basement. For example, look at what $7.95 or $12.95 would get you: a genuine…
We've previously lamented in this august congregation of pixels that the custom van movement has been brought to its knees by the tuner and SUV crazes, as well as the return to traditional-style hot rodding and customizing. But the Krauts? They've got the smarts to go the distance and they're not letting the van thing…