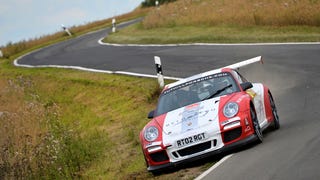 I've been ranting about the Jean Todt and his way to lead the FIA for quite some time. Weak is the best word to describe his efforts in F1, where he doesn't really make an impact and is unable to solve their financial problems. He also doesn't seem to have an answer to the constantly falling fan numbers. And yes,…
Few things make your hair stand on end like the shout-howl of a 997 RSR getting its groove on. Jerez, artful editing, and Calexico's "Pepita" — real life is rarely this LOOK AT ME, but if it works, who cares?
Compared to the road legal car its based on, the Lotus Evora Cup has lost 440 Lbs and gained 115 HP. Colin Chapman would be proud, especially of the amount of "speed" it'd buy him with its $195,000 price.
Are you not yet old enough to drink and are considering driving in the NASCAR Sprint Cup Series? We hope you like trucks, because that's what you're probably going to be driving if NASCAR has it's way. The reasoning is that NASCAR drivers are being pushed into driving before they mature and gain the skills they need…
Whenever we'd mention it was 4:20 pm or give someone $4.20 in change our high school friends would giggle like crazy. We never understood it until now. Apparently, our friends were prescient enough to guess that the 2008 Porsche 911 GT3 Cup racer was going to get 20 more horsepower out of its 3.6-liter boxer six, thus…
Well lookit here — the tiny hot-hatch-loving kids across the pond may have a new toy for the 'bahns and 'stradas. A new version of VW Motorsport's Polo GTI Cup may be afoot. Originally built in the late '80s, the supercharged Polo GT G40 Cup was a very limited edition homologation model for a single-make racing…