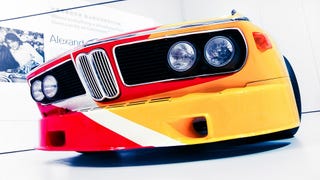 Although we would argue every BMW 3.0 CSL ever produced was a work of art, this particular example was the first to be used by an artist as a canvas. Alexander Calder was asked by friend and racing driver Herve Poulain to leave his mark on this 1975 BMW 3.0 CSL which was to be raced at Le Mans. This CSL was one of…
They weren't in comics, but in full race trim the BMW 3.0 CSL's profile was close enough to the caped crusader's ride to earn the title. The nickname's validity is debatable. The CSL's drool worthiness is not. (Photo Credit: le_huf)
The E9 3.0 CSL was a homologation special built for European Touring Car Championship eligibility. As opposed to other BMW designations, where "L" meant lang (long), the "L" in CSL meant leicht (light). See, size does matter. [via SaveTheEnzos]
Many purists consider the German-market BMW M3 CSL the pinnacle of the marque. Lightweight, powerful, purposeful. Its worth's been proven as the brand new, 450-hp, $170,000 BMW M3 GTS has bested it by merely two seconds 'round the Nürburgring.
Jeff Koons isn't just the artist behind BMW's latest art car — he's also created some seriously erotic artwork. Take this piece, depicting his porn-star ex-wife, titled "Dirty Jeff on Top." Is this the kind of artist BMW wants? (NSFW)
Oh woe, oh terrible day, word comes down from Bavaria that the distilled essence of BMW, the 470 HP 2010 BMW M3 CSL has been canceled. BMW's head honcho at the M division, Ludwig Willisch told CAR Magazine "Based on current numbers, there is most likely insufficient demand for the M3 CSL." So there you have it,…
BMW is working on a follow up to the E46 CSL, applying the same approach to an E90 chassis. Like its predecessor, the 2010 BMW M3 CSL will drop standard equipment for weight savings and boost power. More details after the jump.
Is this the next lightweight, limited-production version of the BMW M3? That is, the next in a lineage Bimmerheads know as CSL. Perhaps, according to BMW site M3Post. This prototype was recently spotted on the Nürburgring, sporting a CSL-style bootlid and wider track, giving at least one forum denizen a case of the…