Honda's recalling 3,336 Accord Crosstour hatchbacks because they need some airbag tweaks. [Honda]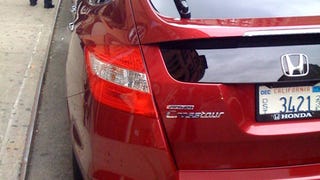 The Honda Accord Crosstour is currently undergoing inspection by the autojourno set, including our own Ray Wert. These first live photos, below the jump, reveal the new crossover certainly conforms to the Beyoncé definition of "healthy."
The Honda Accord Crosstour is taking shape in the form of a boring crossover. You'll have to wait till tomorrow for the full monty. Can't we just have an Accord Wagon? With a diesel even? Please?
The Honda Crosstour has revealed a closer side of its personality on Facebook. From the photo of the grille below, it appears the Accord wagon won't share the snub-nosed look of the Honda Pilot. See for yourself below the jump.
We were the first to reveal the expected name of the Toyota Venza-fighting 2010 Honda Crosstour, now Edmunds Straightline has new shots of the hatchbacked Honda on its way from Vegas to Death Valley.
A new Honda Accord CUV, set to challenge the Toyota Venza in the mid-size crossover market, has been spotted. No name for the CUV's yet been set, but we're hearing it may be called Crosstour.