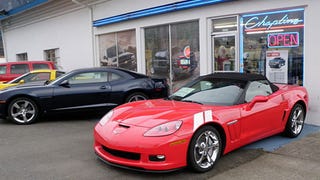 This brand-new Corvette Grand Sport, spotted by a Corvette Forum member outside a dealership in his local town, has something wrong with it. Can you spot what's wrong?
The 2010 Corvette Grand Sport accelerates a touch faster than a normal 'Vette, handles and stops a little better than a regular Corvette, but GM's thinking 50% of sales will be the GS. Why? It's all about the parts list.
As 1.5 millionth Corvette comes off the assembly line, GM's announcing pricing on the sub-Z06, sorta-like-a-Z51 2010 Corvette Grand Sport coupe will start at $55,720 and the convertible will start at $59,530. New pictures of both below.