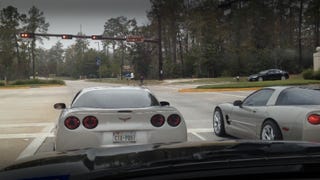 Police officers are looking to fry up the two turkeys who wiped out in a stunningly stupid Thanksgiving Day Corvette drag race. One turkey is apparently a mama's boy and the other is possibly a known scammer.
The folks at Hinson Motorsports posted another angle of this weekend's scary 230 mph Corvette crash at the Texas Mile. Skip to 3:38 to see the crash, watch the whole thing to see how they made the power.
The twin-turbo Hinson Motorsports C6 Corvette Z06 joined two special clubs at this weekend's Texas Mile: the 230 mph+ club and the oh-my-God-how-did-they-survive-that-accident club. More scary for the driver, both membership cards were punched at the same time.
The driver of this Corvette was allegedly intoxicated, swerving across the road and speeding up to 150 MPH before crashing into an Infiniti G35 and tumbling deep into California's Boisa Chica Wetlands.
This C6 Corvette ragtop rear-ended a Mercedes E-Class in Ventura county on the morning of September 5th. No one was hurt, but you have to be impressed by the structural integrity of a convertible Corvette, considering that it drove under the Benz. You also have to wonder how the Vette driver felt after it was all…