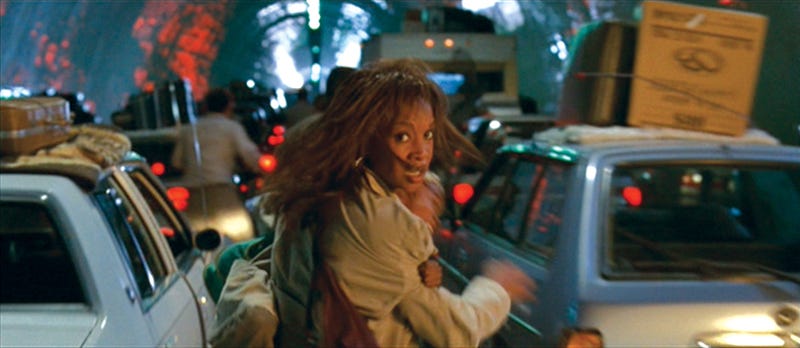 A few weeks ago LA unveiled a sweeping new transportation vision for the city that will swap car-centric planning with more transit, biking, and walking. But a different plan says getting people out of their cars is not the solution. What we really need, are more places for those cars to go. UNDERGROUND.
Sitting in traffic sucks, but in some places, there's no way around it. Those places know who they are, and although Sao Paolo's traffic probably isn't as bad as Mexico City or places in China, it can alter the course of peoples' lives.
A Los Angeles artist is transforming the city's soul-crushing traffic congestion into a (slowly) moving performance space using a white Mazda truck, a few puppets and an FM transmitter.
From New York to San Bernardino, drivers in America's cities live in their cars. Below we use Google Earth to take an in-depth look at the intersections of the nation's 20 most traffic-congested cities.
We've told you before about New York City mayor Mike Bloomberg's proposal to charge New York drivers eight bucks to enter Manhattan during the day, a proposal that was carefully researched, drafted, approved of by Bloomberg, and then buck-passed to Albany, which people are always surprised to hear is the official…
The New York City council has just approved the plan to charge up to an $8 fee to enter sections of Manhattan south of 60th Avenue. The plan was passed as a "home rules message" — sort of a plan to have a plan system which tells the state Senate Legislature to pass a bill a certain way. Whatever, that's just New…
If you didn't dislike drivers who spend all their time in the car chatting away on their cell phones before, a new survey from the University of Utah is going to push you that much closer to grabbing a tire iron and smacking the crap out of their X3 (in places where Cell phone driving laws don't exist). The study…
We previously mentioned that the Zap Xebra Electric Dorkmobile was headed to England. With congestion pricing in effect in London, electric cars are exempt and get drastically cheaper parking. Further, there are free charging stations located around London that theoretically provide free fuel. Assuming a 260 day work…