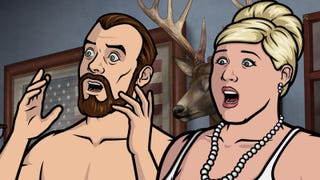 Grab yourself a bear claw and a blue cocktail, preferably served in a goldfish bowl. Sure, we had a feeling this was coming—PHRASING—but FX's animated spy comedy Archer will end after its 10th season. We'll still be getting three more seasons, but they will only run eight episodes each.
Sometimes, no matter how you fight it, stereotypes are self sustaining. [IceHot]
The owner of this Inifiniti G37S obviously feels strongly about the gospel according to Hefner.
Obama-mania is spreading like a virus into advertising as Comedy Central's "The Daily Show" found in this Dallas Area Kia dealer ad for the Sportage. Of course John Stewart ridicules the spot, which features not only a likeness of the Illinois Senator but a rip-off his "Yes we can!" catch phrase. If this is the kind…
If you've never seen the show, 12Oz. Mouse on Cartoon Network's Adult Swim runs a story line roughly based on intoxication, blowing things up and being as confusing as possible. Not that it makes sense, but we were impressed to see a firetruck with a possibly supercharged V6 in the front, jet engine in the back, skis…