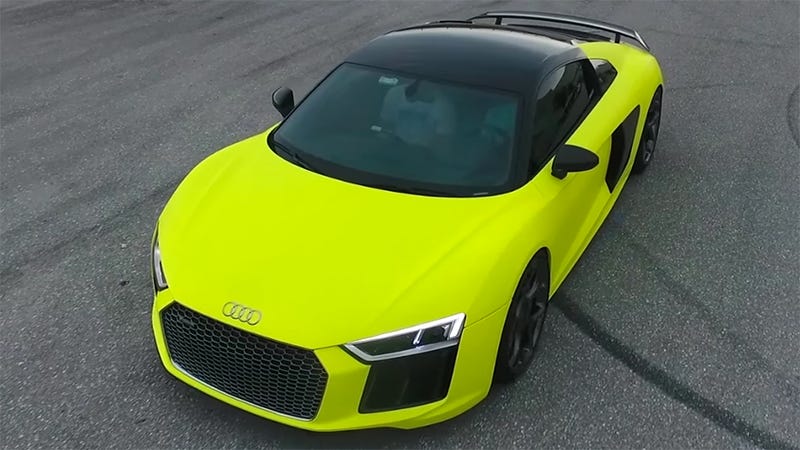 I'm sure you remember the mighty Mercedes G500 4x4² we took to the Mint 400 with the $20,000 Hochglanz-Elektrolichtstrahl paint job I dragged through the Nevada desert. Well, if you went as crazy for that color as I did, you might want to check out this cheap version.
The 2015 Ford F-150 will be available with no less than four distinctly different faces. There are also plenty of chrome, black, and body-color style options. Check 'em out and let us know which ones you like.
Are you near a window? Good. Is it near a road? Okay, great. Look out that window for me. If your're looking at most American roads or parking lots, chances are disappointingly good that the sea of cars you're observing, face smushed against the glass, is largely composed of neutral colors. Silvers, whites, greys,…
Caught in Oman, this Lexus LFA easily ranks as one of the sexiest cars ever to wear a shade of brown. The two LFAs traveling with it were not so sartorially fortunate.
Christian Pearce, illustrator extraordinaire, sees no limits when it comes to his hot rod art, proving that even the touchscreen-enabled Nintendo DS and the homebrew app, Colors can be a deadly combo for imaginative creation.
According to a study carried out in Australia by the RAC Foundation, white cars are the least likely to be involved in accidents. Other light-colored vehicles also tended to be involved in less-severe crashes, while vehicles of a darker hue were 12% more likely to be caught in a wreck. Interestingly, silver was one…
Automakers just got an eyeful of the colors auto paint supplier PPG Industries know will be popular in 2009, and the verdict is in: "yellows and oranges will be richer and warmer; reds will glow in deep shades of cranberry and wine, and dark brown will make a comeback." Crap, and we were hoping Candy Apple Grey would…