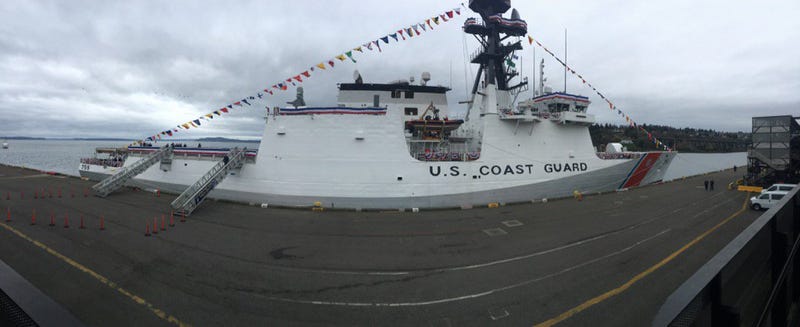 U.S. Coast Guard Base Seattle—America's maritime borders got a significant patrol boost Saturday afternoon after the Coast Guard officially commissioned the USCGC Munro (WMSL-755), the service's sixth National Security Cutter. The cutter comes at a very critical time as the Coast Guard is catching record amounts of…
The vibrations and salt buildup inside of the evaporators led to a few broken pipes. The engines required constant fine-tuning. Leaks were a regular nuisance. A fuel or oil line would break or a gasket would give away. The piping of two of the fuel tanks cracked, which required engineers to weld them back together.…
America already has excellent border security. It's called the United States Coast Guard. Though the service does more to secure the border than any xenophobic wall ever could, President Donald J. Trump is pushing a plan to cut the Coast Guard's budget from $9.1 billion to $7.8 billion in 2017, a 14 percent hit,…
The Polar Star (WAGB-10), America's sole remaining heavy icebreaker, is approaching her final years of service and it's not clear when Washington will allocate the necessary money to replace the aging ship. This leaves the United States Coast Guard praying she doesn't break down, and the country struggling with one of…
This year marks the 100th year of U.S. Coast Guard aviation, and much like the Navy did in 2011, this monumental anniversary will be marked by a series of retro paint schemes applied to some of their aircraft. The first in that series is this MH-60T Jayhawk painted just like HH-34 Seahorse, R-5 Dragonfly and HH-19…
We Americans love a lot of things about ourselves, and perhaps nothing more so than our military. Like many things about the U.S., it's bigger than its international equivalents, with a budget that is larger than the next eight largest military budgets in the world combined. It has a footprint in all 50 states, most…
In the late 1990s the US Coast Guard was constantly being outrun by cartels 'go-fast' drug smuggling boats. Enter a secret program dubbed "New Frontier" that saw the use of a new breed of helicopters and interceptor boats, launched from cutters far out at sea, that aimed to fight the enemy's speed with even greater…
For the last 32 years, the most glamorous front-line aircraft in the USCG has been sleek HU-25 Guardian. Based on the French built Dassault Falcon 20 airframe, the Guardian evolved greatly over the years and its capabilities will only be partially replaced by the turboprop powered CASA-235 derived HC-144 Ocean Sentry…
It's official. Yesterday's M/V Blind Date explosion was a hoax. Since rescues like that cost about $300 per hour, U.S. Coast Guard officials are righteously pissed and have offered a $3,000 reward for information leading to the capture of whoever made the phony call.
Just weeks after the massive, deadly Costa Concordia cruise ship crash, there are reports from the Italian Coast Guard of another Costa cruise ship on fire. This time it's adrift in the Seychelles off the coast of Africa in the Indian Ocean.
From oil-saturated Gulf of Mexico waters to the ice-covered Hudson River, the U.S. Coast Guard saved more than 4,300 lives last year. Here are the 11 best videos of daring rescues, choppy sea-crossings, and one truly frightening battery replacement.