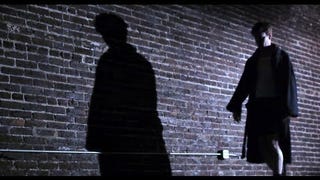 Chicago's Second City takes on the Clint Eastwood Super Bowl ad and ponders a world where we'd given up on Chrysler. "It's halftime in America, and playing two halves is asking a lot. So, good game."
Chrysler's Clint Eastwood ad was the most controversial commercial (for various reasons) of this year's Super Bowl. But it wasn't controversial enough that someone acting on behalf of the NFL should have had it pulled off YouTube. How and why they did it demonstrates just how easy it is for someone to falsely claim…
The Clint Eastwood Super Bowl Ad was a pep talk for Detroit and a threat to those people who don't think automakers like Chrysler are capable of making a comeback. People like Clint Eastwood, who voiced his opposition to the auto bailout in very clear terms just a few months ago.
Of last night's commercials, Chrysler's Clint Eastwood ad was undoubtably one of the best. So why did the NFL claim copyright on the video and force YouTube to pull it down this morning? UPDATE!
DriverSide.com recently assembled this list of surprising celebrity cars. Seeing as how it's Good Friday, we figured it was time for a little candy. And frankly, Lily Allen owning a Ford Focus RS just kind of rocks.
While our least-favorite of the original Dirty Harry trilogy, it's still a decent entry the 1970s San Francisco cop pantheon (which the first movie, along with Bullitt kicked off, The Streets of San Francisco expanded, and O.J. Simpson's TV movie Cocaine and Blue Eyes bookended on the backside. Watch for shots of the…
In the '70s, when you wanted something blown up, some kid at an SGI workstation simply wasn't an option. You actually had to blow things up. And well, let's face it, there's a gut-punch in the final scene of Magnum Force that's sorely lacking in many of today's big-screen 'splode-'em-ups. Watch and enjoy. Mr. Bay…