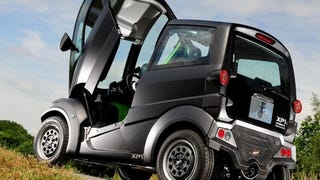 After years of build-up, Gordon Murray's world-changing, super-revolutionary, paradigm-shifting T.25 City Car concept's finally here. But thanks to the too-cool-for-school flip-forward canopy door, the backpack-sized three-seater has us recalling the bombastic claims of Dean Kamen than those of Henry Ford.
In June, Aston Martin released a photo of its Cygnet concept, a Toyota IQ-based city car with a Vantage grin. Today Aston's dropped images of a seemingly production-ready Cygnet with an expected $32,000 price tag.
Gordon Murray's revealed the layout for his pending T.25 City Car. It's a modular central driver system flanked by two rear passengers just like his legendary McLaren F1 super car. This takes the T.25 from just-another-microcar to something very interesting.
According to the Mini watchers at Motoring File, Mini's working on an even smaller model for the European city-car market. The minier Mini would help parent BMW even out its high C02-emissions average in the face of Europe's stiffening regulations. But how would a smaller, less consumptive Mini spec out? Motoring File…
Futurists have been hot on the robotic urban pod model of transportation since the last flight of Laika, the dog cosmonaut. But with technology catching up with ideas, researchers are starting to come up with tangible prototypes. Take, for example, this folding-car concept from MIT Media Lab. Less a car than a CPU…