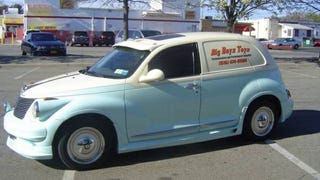 While unabashedly retro in factory form, for some Chrysler's PT Cruiser just wasn't old school enough. Today's Nice Price or Crack Pipe custom PT incorporates even more Plymouth parts of yore, but is its price far too modern?
Chrysler has taken the art of blowing smoke up consumer asses to a new level at this year's Detroit Auto Show, unveiling enough paint-and sticker-special editions to fill an entire gallery. Nitro Detonator? Really? Let's take a depressing look.
Last year the Chrysler PT Cruiser Dream Cruiser Series 5 was unveiled on Detroit's Woodward Avenue. Now, on the day we find out it's not-yet-dead, we finally answer the only question we had: How much does that billet grille weigh?
Though we're fairly sure that the PT Cruiser is out after the 2009 model year, with no further signs of life, the drafters over at Auto Motor Und Sport went ahead and penned some futuristic versions of a next-generation PT Cruiser that no one's expecting, ever. Maybe Ze Germans are just having some fun, as is their…
Chrysler revealed its latest special edition vehicle ahead of this Saturday's Woodward Dream Cruise this morning at Duggan's Irish Pub on Woodward Avenue — the 2009 Chrysler PT Dream Cruiser Series 5. As the name suggests, it's the 5th version of the PT Cruiser to be revealed at the Woodward Dream Cruise. And, like…
While we're not quite so disinclined towards the little faux-retro econoboxes ourselves, a writer over at BrooWaha makes a fairly convincing case for the theory that the "PT Cruiser has murdered taste and massacred better judgement, all the while asphyxiating our culture's collective memory." Strong words for a car…