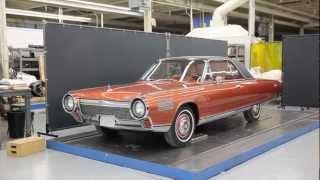 Chrysler's insanely innovative limited-production Turbine Car turns 50 this year, and while it never caught on, it remains one of the coolest experiments in automotive history.
The latest commercial for the Chrysler 300S shows a concept version of it being build by the nice folks at Wayne Industries under the tagline "Imported From Gotham City" with the license plate DK300S — as in the Dark Knight from The Dark Knight Rises. Is the Batman downsizing his fleet?
Just for fun, Chrysler shoehorned their 426 Hemi Gen III all-aluminum crate engine beneath the hood of a Chrysler 300S. They're calling it the "426S." While there's no plan to build a production version, they are interested in knowing what you think about this almost-CTS-V-level 540 HP, 530 lb-ft of torque monster of…
The good Dr. Dre may drive Ferraris, but when it comes to keeping those heads ringing he's sticking with his partner Eminem and tuning sound systems for Chrysler. Ding ding dong.