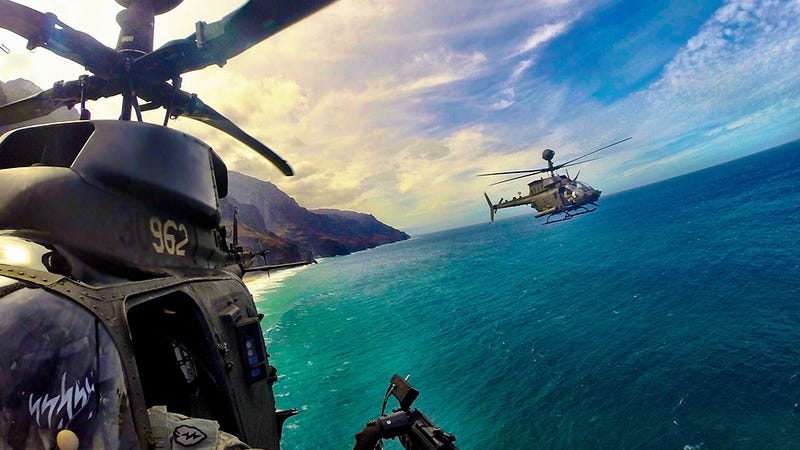 This hyperreal picture, taken by Wesley Prirchett, titled simply "Wingman," won the US Army Aviation Photo Of The Year award. It depicts a super wide-angel view of a pair of recently retired OH-58D Kiowa Warriors skirting the colorful Hawaiian coastline, and it's nothing short of gorgeous.
Steve Millen is crazy and, in case you didn't already know that, here's more proof. It's Millen and his Stillen R35 GT-R racing acrobatic chopper pilot Leigh Hopper's Eurocopter "Squirrel" at the Targa New Zealand. Who will win? More importantly, has Top Gear already taken all the really good car stunts?
The biker boys at Amen Design have built a chopper based around Franco Sbarro's hubless wheels. And it really rides!
Always wanted a classic Jaguar with a pre-pedestrian-safety leaper hood mascot, but never wanted to deal with constant electrical gremlins and leaky windows? Then the Jaguar motorcycle may be the vehicle for you. And don't worry; just like any pre-Tata Jag, this bike doesn't have an ounce of practicality either.
Ow ow ow ow. Even though Cadillac is planning a motorcycle for the LA Auto Show, we thought the themed chopper craze was starting to die off. Apparently if you own a Tweety yellow Lamborghini Gallardo, it's alive and well. It speaks volumes of this custom chopper that it is trailered on a wonderfully classy diamond…