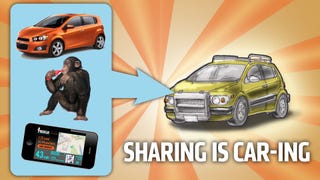 A little bit ago, we ran an article about the idea of Peak Car, and that led to discussions about share cars like Zipcar, and that led to this comment from reader Max_Plays_Music:
If you purchased a 2012 Chevy Sonic you might want to check and see if the car's brake pads are all there as GM now admits they may have shipped as many as 4,296 of them without them. Also, they're not notifying anyone until mid-January. Happy New Year!
To reintroduce people to its Sonic subcompact and wipe clean memories of the Aveo, Chevy is handing out codes for six months of access to the Spotify music streaming service. Go here for your digits. First 500 get it.
We guess the Aveo was such an awesome little shitbox, Chevrolet feels it, like a champion baseball player, deserves retirement of its name. In its place? The Chevrolet Sonic. When you buy one, do you get a cherry-limeaid slushie? [GMInsideNews]