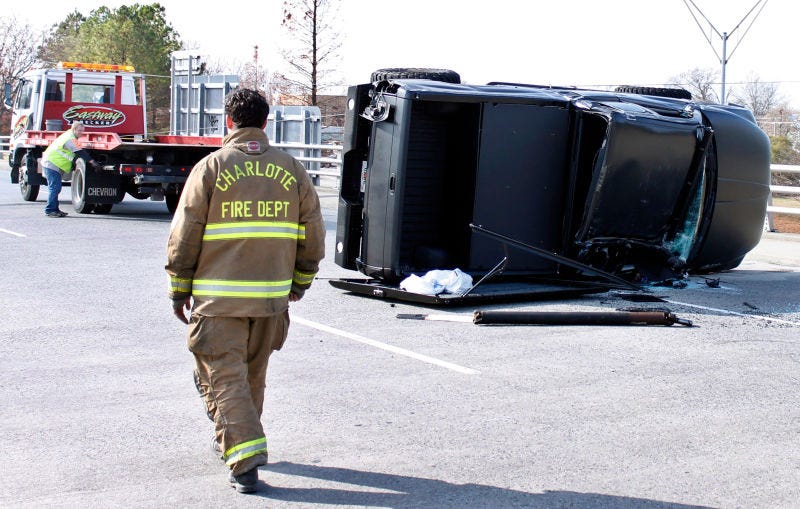 Carolina Panthers Quarterback Cam Newton fractured two bones in his back in 2014, when he was involved in a crash in one of Charlotte's most treacherous intersections. Two years after he and hundreds of other residents called for it, it's finally getting a traffic light.

Protests in downtown Charlotte, North Carolina over the death of Keith Lamont Scott at the hands of police turned violent this evening, with several businesses including the NASCAR Hall of Fame reportedly being looted in the process. Scott was a father of seven who was shot and killed in a confrontation with officers…
Protests have swirled through Charlotte after Keith Scott, a father of seven, was shot and killed by Charlotte PD Tuesday. According to his family, he was armed with nothing more than a book. This evening, protests once again became violent, and reporters from the scene are reporting that someone has been taken to the…
This year's NASCAR Sprint Cup All-Star Race may be a little hard to follow, especially with the caution at the end of the first segment. Fortunately, driver and grand marshal for the night Tony Stewart isn't one to mince words about things when he's unhappy.
Carl Edwards got his first win with Joe Gibbs Racing in his #19 Toyota and his first win in 31 races, and subsequently rushed into the stands with the checkered flag to celebrate with the fans. Even Edwards' sticky Coke-coated shoes couldn't stop him from winning NASCAR's feat of endurance, the Coca-Cola 600.

Tonight's Sprint Cup Coke 600 is often referred to as NASCAR's ultimate test of endurance, Unfortunately for Ryan Blaney, his car reminded me less of a World Endurance Championship racer and more of, erm, the least reliable engine in Formula One. Since when does Renault make Ford V8s?!
Charlotte Motor Speedway's having some fun with the ginormous gaping sinkhole in the middle of their infield, putting out the following top ten list of things they've found in said earthly maw.
Our friends at Popular Mechanics have put together a list of what they consider the top ten most influential crashes in NASCAR history, complete with video. These ten smash-ups were influential not in how they changed the course of a single race, but in how they got us to today's "Car of Tomorrow," a race car that is…

• An apple a day, keeps the health costs away. [Freep]
• Welcome to Detroit...we hope you survive! [Detroit News]
• And the winner of "Most obvious headline of the year" goes to...ABC News! [ABC News]
• Best. Sales Month. Ever. [Marketwatch]
• Merger madness, it aint just for the car companies anymore. [Houston…