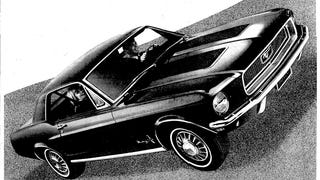 My kids are asleep and my wife's is sick. That means I'm bored. So I present a challenge to you. Find an advert for your first car. Sounds easy, but here is the twist, it has to be the correct trim level. So, if your first car was a clapped out 1994 Honda Civic DX, then no fair posting an ad for an Si.
Go get your headphones. Do it now. It's worth it to properly appreciate the furious tones of the Ferrari 458 Italia Challenge lapping the test track. We're just hoping it'll be as good for you as it was for us.
Just as the Ferrari 458 Italia's usurping the F430, this track-ready 458 Italia Challenge will replace the F430 Challenge in competitive single-series trophy racing for the well-heeled. First leaked pictures of the new car below.
A Mini Cooper S built only for the track? Yes, please. And make it a double. Mini says it's rolling out a new Challenge edition of the Cooper S that offers higher top speed, increased torque, faster acceleration and better traction in exchange for DOT approval. Right, it's track-only. It's got the John Cooper Works…
We'll have to wait until this fall to get a good look at the Ferrari that lightness begat, but according to the Italian Autobloggers the price will be anything but unweighty. Word is the stripper F430, producing 500+ horsepower to pull 220.5 pounds less weight, will cost as much as a 599GTB, or around $268,000 at the…
Our buddy Luca and his minions down Italia way procured new spy shots of Ferrari's soon-to-be F430 Challange Stradale. That's the streetable version of the lighter Challenge cars used by gentlemen racers in Ferrari's worldwide series. No word on release yet, but it'll likely have an upclocked version of Ferrari's…
The streetable version of Ferrari's F430 Challenge is coming soon, judging from a prototype spotted recently on the streets of Maranello. Like the Porsche GT3 RS, the Challenge Stradale is lighter than its unlettered counterpart, but gets a horsepower boost from 490 hp to around 520 hp, according to spies. Weight…
The first qualifying round of the DARPA Grand Challenge — the big, desert robot-off that comes with a $2 million grand prize — got underway in California yesterday. Fewer than half of the 16 vehicles that started the two-mile course finished, though one competitor, a Volkswagen Touareg named Stanley (don't ask)…
The kids from UC Berkeley have emerged from their underground laboratory, la "Real Genius," with a robotic motorcycle called the Ghostrider (clever, the slide-rule set). The riderless bike was picked to run in this year's DARPA Grand Challenge, an annual test of autonomous vehicle technology in the form of a race…