On the cold Norwegian circuit of Vålerbanen, a featherweight Caterham R500 hunts a big boy Ferrari. It's epic.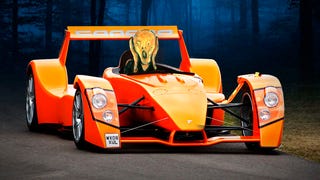 Some cars were born to be driven, some to be lusted after, and a few designed to be feared. With assistance from our frightened readers we've singled out the ten cars that scare the crap out of us.
The chaps at Caterham will do anything to save weight. This time, they've taken the Caterham R500 and cast it in Legos. We can't wait to see The Minifig Stig toss it around the Top Gear track.
We brought you some of the first images of the Caterham R500 yesterday and today we've got all the details and the high-res images to match. Weighing in at just over 1,115 lbs, the latest kidney-punisher from Caterham features all sorts of goodies that set it apart from the more brutal CSR. Chief among them is sweet…
Following hot on the heels of the teaser image of the Caterham R500 Superlight the other day, we now have some nice, but unfortunately small images of the new car — and details. Apparently the car will be available with a 263 HP 2.0L Duratec with a redline somewhere around 8,500 RPM, a normal six-speed manual or a…
Modern cars continue to get bigger, heavier, and more complicated. We understand all the added safety features, electronic goodies, and interior space have their appeal to consumers, but we've gotta respect a return to the basics. What are those "basics"? Well as Colin Chapman said, "add lightness." Even though…