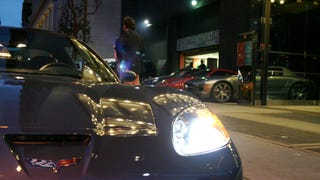 Try as it might — no matter how much smoke and noise arose from his burnouts, the Top Gear hosts would not awaken from their drinking, revelry and eventual alcohol-induced slumber. Dejected, the 2011 Corvette Z06 Carbon sadly puttered home.
Are you a track day fiend looking for a Corvette Z06 dressed up in carbon fiber tchotchkes and ceramic brakes like its bigger, badder brother, the Corvette ZR1? Enter the Corvette Z06 Carbon Edition.
One of only two circular looms in the world is used to weave dual-tube carbon fiber components, like the A-pillar, on the Lexus LFA. It's obsessive attention to detail like this that explains the near $400,000 price.
We've all seen cars with full-body advertising wraps; now tuner ABT Sportsline has taken the concept to its logical "modified import car enthusiast" (MICE) conclusion with a carbon fiber film wrap for the Audi R8 and Q7. The wrap is just a thin adhesive film printed and textured to be nearly indistinguishable from…
Yeah, so, that Car of the Future episode of Nova with Click and Clack just wasn't all that good, sorry about that. The episode should probably have been called "Moments of forced laughter from two funny old guys in between John Lithgow talking down to the viewer about the car of the future". However, buried in the…
Rather than focusing vehicle-development and alternative-energy resources on finding different kinds of fuel, students and researchers at Georgia Tech are taking a couple steps back and looking at the emissions problem. The project currently being worked on involves a car that still operates on standard liquid fuels,…
Carbonetic is an offshoot of Across, which produces carbon-carbon composites using a patented method. The translation is that since they can make nearly anything out of carbon-carbon, they can also produce a series of clutches, limited slip differentials, and brake pads using the same stuff. What impressed us the most…