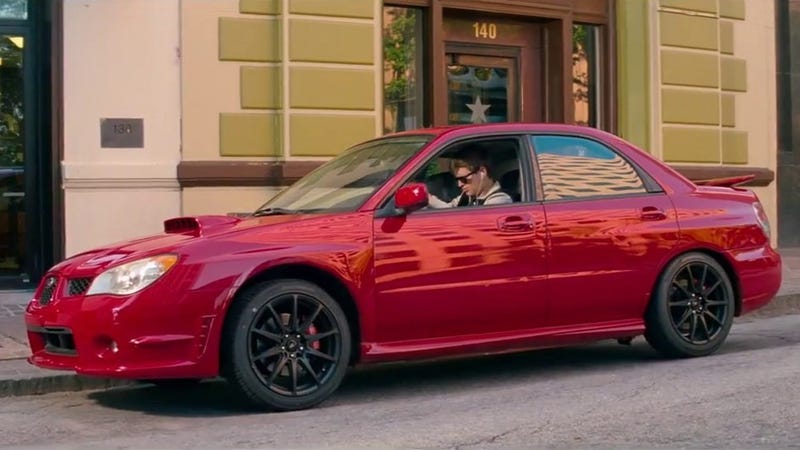 The red 2006 Subaru WRX only makes a brief but memorable appearance in the opening act of this summer's hit heist movie Baby Driver, but it would appear it made quite the impact considering the price one of the stunt cars just sold for on eBay.

Edgar Wright is one of the most distinct directors working today, tackling the zombie, buddy cop, video game, and superhero genres. Now focusing he's made what should be an epic heist movie with plenty of insane car chases in this year's Baby Driver. Check out an exclusive video on how the actors prepared for their…
First, I just want to point out how vastly better this demonstration is than the other video we had of someone jamming their car in reverse at speed. Mostly because something actually happens in this one, and I'm a sucker for things actually happening in videos. I'm just not sure I'd have guessed that this would be…
Earlier, we had a story about the world record for driving on two wheels, at least in a three-wheeled Tuk-tuk. That record was 1.37 miles. Sure, that's far, but not that far. So what's the record for a four-wheel car? While looking for the answer, I found something amazing.
I'm a little surprised that we haven't covered this in detail before, because it's so crammed full of Jalop-bait: jumping and flipping cars, AMCs, James Bond, frustrated backwoods law enforcement, and lots of secret math and early computers. The jump is the famous corkscrew from The Man with the Golden Gun.
The Fast and the Furious conglomerate of movies is known for their egregious use of CGI and quite frankly some poor decision making, but according to a recent behind the scenes look from the latest Furious 7 sequel, this reputation might need reconsideration.
Mustachioed stunt driver Greg Tracy and former One Direction tenor Tanner Foust set a completely made up world record earlier today when they drove their cars through a double loop simultaneously at the X Games in Los Angeles. Tracy won, mostly because he did a Q&A with our readers on Friday. When will you learn,…
Travis Pastrana will jump his Subaru Impreza rally car from the Long Beach pier to a barge moored 250-feet out in the water for his latest New Year's Day stunt. Don't worry, he says water is soft.