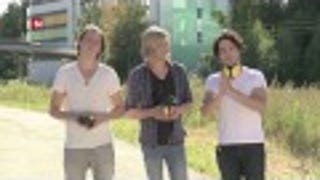 Ylvis, the guys who did 'What Does The Fox Say' are comedians, so it's no surprise that they came up with this fantastic prank using a train horn, an electric car, and a lot of shocked Norwegians.
Hundreds of cars gleam in the sun, neatly slotted in the parking lot grid, an enormous keyboard waiting to be struck. A black and orange Shelby GT rumbles in, the timpani taking its place. A silver Prius takes up position alongside it. A 2008 Dodge Durango chirps out a single staccato note as its driver walks away.
It's winter prank season, and it looks like the urchins of Southern Colorado are going up a level on their end-of-year douchbaggery. This time the plastic-wrap trick cracked a windshield. Next time, it could waste a biker. That's happened before.
NASA's known for their clever pranks, including slipping porn into Apollo checklists, so it comes as no surprise this poor truck's been given the full reflective foil treatment sitting in the Kennedy Space Center's parking lot.
A clever two-bit Guy Fawkes attached a parking boot to the wheel of an LAPD squad car yesterday. Firefighters eventually removed the parking restraint in between bouts of uncontrollable laughter. (H/T to rlawuers!) [Photo: Mel Melcon/LATimes]
Artist Helmut Smits placed six dabs of acrylic paint on a windshield, just above the wiper blade. The resulting Roy G. Biv rainbow pattern is both clever and a potentially delightful prank. Highly recommended for cranky targets.