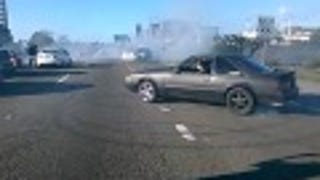 No one seemed terribly happy with the guys who stopped traffic on an Oakland highway and then posted a video of it to Facebook, least of all the real police and the Internet police, both of whom are trying to track down the people involved.
Faced with the eventual phasing out of Ford's legendary Crown Victoria Police Interceptor, the California Highway Patrol is interested in replacing the aging cruisers with an interceptor version of the Ford Explorer. Officials said that newer sedans like the Dodge Charger and Chevrolet Caprice are too small.
To show how legalizing marijuana in California would lead to more impaired drivers, the California Highway Patrol put two media types behind the wheel after smoking state-supplied chronic, in varieties called "Train Wreck" and "Blockhead." (H/t to Ari!) [LA Times]
LA Daily News publisher Jack Klunder had the 1966 Mustang bought by his father stolen from a college parking lot in 1974. Late last year, the California Highway Patrol called him to report they'd found it. (H/T to bigleggedwoman!) [DailyNews]
Social media "mogul" Philip Odegard mysteriously included this amazing California speeding ticket in his Flickr photostream this week showing an estimated speed of 210 MPH+ in a 65 MPH zone driving a Bugatti Veyron.