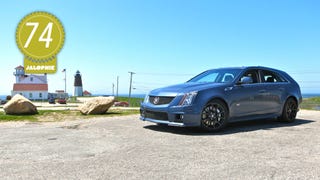 At the end of this year, the all-new 2014 Cadillac CTS will be released. That means the, hopefully temporary, demise of the current high performance CTS-V, as well as our favorite variant, the CTS-V Wagon. It's an instance where the least popular CTS on the market is also by far the best.
It's fast, it handles and it's the answer to a question only asked by a small, noisy few gearheads and automotive journalists. We got another chance behind the wheel of Cadillac's CTS-V wagon this weekend because, well, it was available in the General's New York City press fleet.
The 556 HP Cadillac CTS-V Wagon will be available at U.S. Cadillac dealers later this year, with pricing starting at $62,990, including destination. Do want. Do want so badly it hurts.
This is the Cadillac CTS-V Sport Wagon. It is a staggeringly irrelevant ball of horsepower and excellence wrapped up in the coolest shape to come out of Detroit in years. We love it. You should, too.
This is it. The Cadillac CTS-V Sport Wagon is officially heading to production. This is the "show car" version of the 556 HP supercharged Corvette-engined Caddy-badged Jesus wagon we'll be seeing live this week in New York. Daddy like.
This is it — the Cadillac CTS-V Wagon — fully unmasked at a marketing photo shoot. It's the stretched-out high-power people-hauler every automotive journalist has been waiting for. Let's just go ahead and call it the Cadillac of awesome.
Cadillac, by way of Bob "Too Cool to Live, Too Young to Die" Lutz, just confirmed that the already-kinda-confirmed Cadillac CTS-V wagon will see production. In other news, our heads just exploded.
Our prayers for a US über-wagon have been answered, as GM has confirmed Inside Line's claim that the Cadillac CTS-V Sportwagon is go! No word yet on details, pricing or timeline. Only the cryptic tweet from Scott Oldham below.