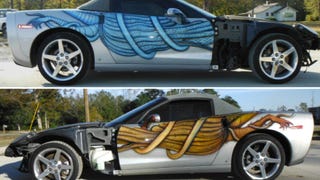 I'm going to preface everything I say about this 2006 C6 Corvette with unadulterated, overly-critical speculation about its previous owner. Whoever that person was is most likely a moron. How do I know? I saw why it has a salvage title, issued by the State of Florida, naturally.
A month ago, Thani Al Mazrouei heard an unpleasant noise coming from his 2008 C6 Z06 Corvette's engine, and took it to the closest Chevrolet dealership to have it checked out. It turned out to be a problem with the crankshaft, so the dealership replaced the engine under the car's warranty.
There have been so many bad Corvette Stingray retro-modern rebodies it was becoming increasingly impossible to imagine a good one. Until now. Coachbuilder Rossi is developing the Rossi SixtySix, an homage to the Split Window that looks absolutely stunning.
Four people were killed in a 2007 Corvette this morning after the driver flipped the sports car over a guard rail. Body and car parts were "scattered along a half-mile stretch" making identification difficult for LAPD investigators. [LA Times]
It's not just temperamental Lamborghinis and Ferraris catching on fire; it looks like even the C6 Corvette's plastic body will burn. Allegedly, this one had a little help from Ukrainian class warfare. Gallery below.
Although we first saw n2a Motors' Anteros back at SEMA two years ago along with the 789 retro-rod. Well, the custom coachbuilder's got a brand new bag of C6-modified tricks up its sleeve. The custom carmaker's bringing the latest version of the Anteros to the LA Auto Show later this month. This new Anteros hotness is…
This C6 Corvette ragtop rear-ended a Mercedes E-Class in Ventura county on the morning of September 5th. No one was hurt, but you have to be impressed by the structural integrity of a convertible Corvette, considering that it drove under the Benz. You also have to wonder how the Vette driver felt after it was all…
After hearing about the pending unveil of the Specter Werkes GTR and since they're situated only a stones throw from the Jalopnik Detroit HQ, we decided to give 'em a ring and head out for a visit. President and founder Jeff Nowicki gave us a tour of the Troy, Michigan facility and gave us the low-down on what kind of…