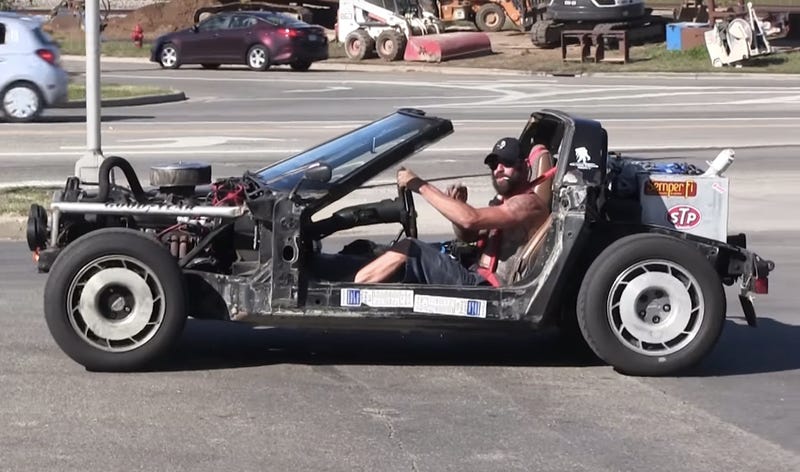 For the second time this year, we're seeing a C4 Corvette gutted and perverted into something terrible. I mean, terribly awesome. Are we at the early stages of a Vette rat-rodding trend?
Today's Nice Price or Crack Pipe custom is so Miami Vice that it'll have you donning your Johnson in no time. Of course it's a fake, but that doesn't necessarily mean that its price will have you saying faux-getaboutit.
After the initial buzz surrounding the radical fourth generation redesign of the Corvette started to fade buyers started to realize that underneath the long hood of the C4 things were less than impressive. For 1985 Chevy sought to solve this problem by introducing Tuned Port Injection to 'Vette which bumped the…
What happens when you hire a director to make a Knight Rider-themed music video who has never seen Knight Rider? You get Curren$y's NSFW video for "Micheal Knight." Mean hook aside, is it that hard to find a Trans Am?
Hurricane Ike may snack on Mazdas, but it clearly wants to fill its belly with C4 Corvettes. We're not sure if this was a shop or just the warehouse of an owner, but it's a popular vehicle in this area. If the photo makes you sad we'd like to remind you that, even if these cars were running, chances are they would…
To show off the history behind the 2009 Corvette ZR1 during our first drive at Milford, GM brought out some C4 ZR-1 'Vettes. The most interesting one was this 1990 prototype adorned in vents and scoops. Corvette commander Harlan Charles says this was a testbed for a complicated and heavy active suspension system that…
After yesterday's top ten silver screen police car chases, we're continuing our week-long Amerigasm with the top ten real police car chases. Because whether you're rooting for the baddies to make a clean getaway, or for the long arm to catch 'em, there's nothing quite like a good ol' real-life American police chase.…
Who needs a Pontiac G8 ST when you can have a bitchin' camino-ized C4 Corvette ZR-1? Nobody that's who. Fortunately for our still beating hearts, this is not really a ZR-1 turned truck/car — it's an '84 Vette smooshed together with a '91 with custom molds and bodywork to create that smooth Vettamino effect. According…