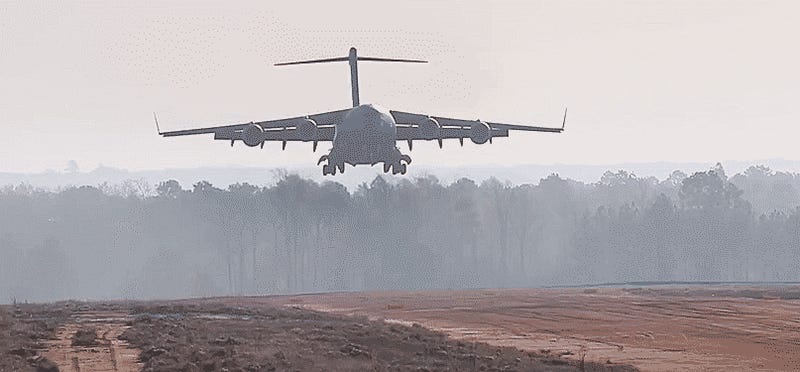 America's ability to unpredictably project power nearly anywhere in the world on short notice is a strategic advantage that has become more valuable than ever before. The C-17 is a major part of this equation, able to move everything from Abrams main battle tanks to massive fuel bladders into short and even dirt…
Multiple reports state that the Pentagon air-dropped cargo pallets full of small arms, ammo, grenades and other weaponry to supposedly vetted forces known as the Syrian Arab Army operating in the Al-Hasakah province of Syria. The drop was made via a division of C-17A cargo aircraft flying under fighter cover.
Lockheed has had a busy month attempting to stake its claim to America' staple military aerospace capabilities, unveiling their U-2 replacement concept. Now their large blended wing cargo hauling jet design, dubbed the Hybrid Wing Body, that has been in the works for over six years and aimed to be a great improvement…
Joint Base Charleston was put under pressure last week conducting an extraordinary exercise to evaluate their ability to deploy a large aircraft formation during a simulated crisis. And by large I mean very big airplanes in a very big formation.
The C-17 has been in production for 25 years, with 279 Globemasters emerging from Boeing's (and once McDonnell Douglas') historic Long Beach factory. Yesterday, the final aircraft had its wings mated to its massive fuselage, ending not just the production run of the C-17, but the 72-year-old plant that produced it.
Just because low-flying C-17s can drop their cargo under the cover of night does not mean they won't come under attack from heat-seeking missiles. Being one of most highly defended aircraft in the world, its defenses can include popping flares and clouds of infrared energy. It can even shoot lasers directly at the…
The 82nd Airborne Division has "been there, done that" in virtually every American military conflict of the last century and they continue to be one of our most potent fighting forces.
Boric acid works as a "neutron poison"and is used to prevent fission in nuclear reactors, which means Japan needs some. So how do you move 17 tons of boric acid into a C-17 cargo plane? Very carefully.
A brand-new Boeing C-17 cargo plane fuselage was trucked out of Long Beach, California last night via the Pacific Coast Highway to a ship waiting to transport the 50-ton plane to Virginia for training use. Video below.