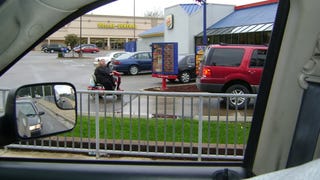 It's not everyday you see someone of this magnitude Hoverounding at the local Burger King drive-thru, but thanks to the boys at CobaltSS.net, you now know the depths to which certain people will go to see the King.
A New Jersey-based Burger King has announced they'll install a kinetic energy harnessing speed bump in their drive-thru to tap into the unused power generated by the hundreds of cars that pass through daily.
It's dark, it appears to be cold, and two men are in a car and hungry. Naturally, the obvious thing to do would be to freestyle in their order at the McDonald's drive-thru. Unfortunately, the girl with the headset interrupts their flow with a mundane question about how they'd like it cooked.