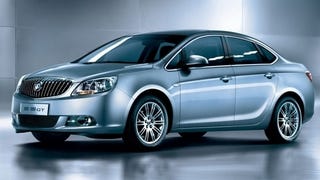 These are the first image of the Chinese-market Buick Excelle GT based on GM's Delta platform. It also offers a look at the baby Buick headed for the US. The name's unannounced but we're totally pulling for Skylark.
GM teased the masses at the LA Auto Show with a render of a Buickized Astra then, lo-and-behold, spy shooters in Germany have captured the car in light camouflage. How much you wanna bet they don't name it Skylark? [MotorTrend]
Welcome to Down On The Street, where we admire old vehicles on the streets of the Island That Rust Forgot: Alameda, California. Here's an example of badge engineering from the perhaps-best-forgotten GM X-Body platform.