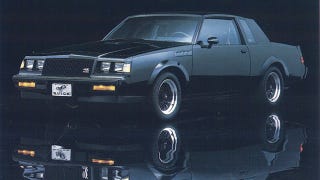 As defined by the most important document of the internet age, the Ten Commandments are "a set of biblical principles relating to ethics and worship". This weekend we want to know what rules you hold sacred when it comes to the ethics and worship of all things automotive.
In a web chat today, GM President Fritz Henderson said Buick fans would "like what you see in future Regal alternatives" but shot down the idea of the return of a Buick Regal GNX.
Though the most popular vehicle destroyed under Cash For Clunkers was the Ford Explorer, there were also AMGs, Rolls-Royces and even a LaForza crushed. The ten most exotic cars that fools parted with below. Click through if you dare.
It's that wondrous time of year when our inner ghouls come out and we lurk the streets, be-costumed, reveling in our darker selves. Halloween night represents the one night we can cast off our cheeriness and embrace what lurks within the darkest corner of our souls. And though we must adorn ourselves with capes and…
This guy in his Buick Grand National at the Woodward Dream Cruise clearly hasn't seen our How To Do A Burnout video. If he had, he would've known to pick a better location — one where he wouldn't get in trouble. Then again, maybe that friendly person in the uniform was just giving him kudos. Either way, he seems to…
We love the '80s and not just for Rick Astley, Members Only jackets and New Coke. All that's well and good, but what we really love can be described in one italicized, chromed plastic-emblemed word: TURBO. The 80's economy forced automakers to use weaker and smaller engines, so to boost power we all turned to…