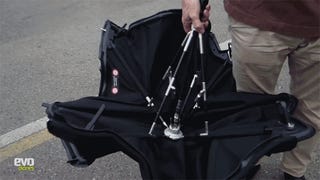 The temporary roof for the $2.7 million, 254 mph Bugatti Veyron Vitesse is actually an umbrella. It is, though, a really sweet carbon fiber umbrella.
At the World's Fastest Convertible's high speed run, everybody was wearing rather ridiculous "Bugatti" sunglasses made of carbon fiber and "Vitesse"-branded driving shoes. Except for Harry Metcalfe. EVO Magazine's editor-in-chief went for a drive wearing a Maserati cardigan instead. British humor at its best!
One day you lose a record, another day you set a new one. The Bugatti Veyron Grand Sport Vitesse is now officially the fastest car in the world... Well, the fastest car without a roof.
We're not sure if McLaren is bringing a 1,000 horsepower F1-successor to Pebble Beach, but Bugatti isn't taking any chances. Bugatti of Beverly Hills has ordered up a custom 1,200 horsepower Grand Sport Vitesse to show off at the Concours d'Elegance.
I'm a little mixed on certain color combinations of the Veyron, but the Bugatti Veyron Grand Sport Vitesse always looks good to me. The point of owning the world's fastest convertible eludes me, but watch this video a few times and tell me if for a brief moment it doesn't somehow make perfect sense.