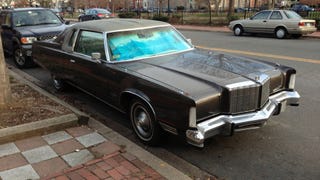 Welcome to Found Around The District, where we highlight fascinating cars we find around a city where people are too busy fighting through traffic and hunting for parking to drive anything interesting: Washington, D.C.
Detroit had a love affair with the Brougham that lasted from the 1950s through the 1990s, and General Motors had some of the best Broughams of all!
Fifty years ago, the world was a very different place. Proof? This image of a '57 Cadillac Eldorado Brougham's glovebox was a General Motors PR shot. My, how times have changed. Photo Credit: GM
Back in 1973, a brand-new XJ6 listed at about $9,500. For that price you got 150 horsepower, four-wheel disc brakes, Lucas Electrics, and plenty of sophistication. For less than half that price, you could have a 154-horse LTD Brougham!
It's not often that a LeMons team owns the Index Of Effluency discussion from start to finish, but the Fortress 1978 Oldsmobile 98 Regency Brougham has accomplished the feat.
According to Wikipedia, a brougham is a "light, four-wheeled horse-drawn carriage." Not since Detroit's marketers unearthed the term 50 or so years ago!
Well, you've done it again - voted into the Jalopnik Fantasy Garage another glass-and-steel piece of history which some, but not all, agree would make for a great addition: the Lotus Eleven. Last week saw no progress towards filling the garage due to Geneva Motor Show shenanigans, but that just gave us some extra time…
What was it with Detroit and the word Brougham? GM, Ford, and Chrysler each slapped their share of "Brougham" emblems all over various crypto-upscale models of the 1960s and 1970s, apparently believing that buyers would feel that the elegance of 18th-century horse-drawn vehicles would rub off on their gasoline…