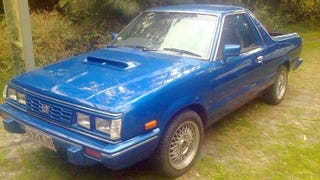 Fellow Subaru admirers, I'm drooling. Some guy thought that it would be a good idea — and it is — to drop one of Subaru's turbocharged WRX STI engines into this little ol' BRAT. With that kind of power, there won't be many Kangaroos who can outrun it.
Subaru's now famous Symmetrical All-Wheel Drive is 40 years old. Contrary to what you might expect, the first couple of Subarus using it were not turbocharged racecars fighting against the mud and snow but rather affordable coupes and family cars in need of some extra grip. The Japanese company has been commited to…
In Ronald Reagan's day, it wasn't smart for an American politician to be seen in a Japanese vehicle, but the soon-to-be-President quietly kept a quirky Subaru BRAT at his ranch in California under an agreement that the automaker would get progress reports from Reagan on the little truck's performance. Read about how…
If you jones for alfresco backwards freeway rides and off-road acumen, then Subaru's original Brat can't be beat. Today's Nice Price or Crack Pipe California ex-pat Brat isn't too beat up, but is its price warrant a beat down?
The Subaru BRAT is a great runabout but the backwards-facing jump seats are as dangerous for storm troopers as they are for everyone else and thus makes for an underachieving AT-AT. Check out Lunchbreath for the full series. [Flickr]
We're convinced BusinessWeek intentionally created its "Fifty Ugliest Cars of the Past 50 Years" list to offend Jalopnik reader sensibilities as much as possible. We've pulled out ten cars that simply have no place on this list. Two-minutes hate ahead.
When creating the Simpson's characters, Matt Groening named Bart from an anagram of Brat- reflecting his personality. Now Nice Price or Crack Pipe has a Subaru that seems almost as crudely drawn and rowdy.
As much as we may be inclined to mock the Thunderstorm, which combines the nose and a powertrain of a Geo Storm with the rear end of a Subaru Brat and was constructed with an impressive level of parts-bin rummaging, we're in awe of how cool it actually is. The Thunderstorm is up for sale due to the "RECENT PASTING" of…
What with all the great DOTSBE photos coming in from readers all over the globe, we haven't had a chance to show any Denver cars for a few weeks. This means we have quite the backlog, because in addition to Denver regulars Kitt and Ejacobs, I get shipped to Denver for work every so often and shoot the occasional…
We saw the Gremlin beat the Spirit by quite a margin in our last Choose Your Eternity poll. Maybe it was the Wayne's World connection, or maybe it was just the obscurity of the AMC Spirit. Either way, we're going to follow up a pair of quirky American machines with a pair of equally quirky Japanese machines. Sure,…
Since Vancouver's "Big Bus" tour vehicle features a hacked off back but retains its seats, "Camino" is really the proper suffix for such a machine. It's more like a steroidal BRAT with a thyroid problem. You can click over for info on their tours. We're going back to conjuring up ways the combined Fall Guy/A-Team…
While we were out and about with Jonny Loverman the other day in a Schnitzer-tuned 6-Series, we got no attention from women. Later, rolling through Santa Monica in his hotted-up Impreza five-door (like punk, but it's a car!), a hot girl totally blew kisses at us. Quoth Jonny: "I still don't understand why you got the…