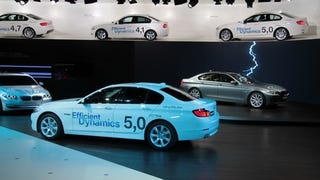 The uber cool-looking BMW Vision EfficientDynamics Concept makes 265 HP and 590 Lb-Ft of torque thanks to a full hybrid three-cylinder turbodiesel. Now it's finally gone live on the Frankfurt floor. Also, it looks like an extra from Tron.
In case you missed the very Tron-like BMW Vision Efficient Dynamics Concept this weekend, here's a slew of shots of the German three-cylinder turbodiesel-and-electric motor-powered concept's design renderings. It's a techno-cargasmic gallery of awesome. Anyone see Flynn?
The BMW Vision Efficient Dynamics Concept is a full hybrid powered by a three-cylinder turbodiesel connected to a pair of electric motors pumping out 265 HP and 590 lb-ft of torque. Oh, and it looks like it's from Tron.
Ignore the boring video and try not to make the obvious "No, you make fat cars" response to the "We don't make cars" claim. Instead, check out the taillight on the BMW Vision EfficientDynamics concept.