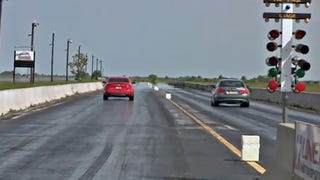 Speed:Sport:Life's Zerin Dube brought his new Audi S4 to take pics of the VelociRaptor 600 and, before we knew it, John Hennessey himself was in it drag racing me behind his shop. Then more awesome ensued.
You'd think a BMW 335i driver lead-footing it on twisty roads would enjoy some friendly company from a trailing MazdaSpeed3. You'd be wrong. This putz comes to a dead stop and lets go with some totally uncalled for road rage.
From reader Lucas, "This guy wanted to budge in front of me for gas so bad (from the opposite direction) that he pulled up with the tank on the wrong side." Little does Lucas know, that's BMW's recommended fueling procedure.
According to the photographer, the owner of this BMW 335i parks like this every day. [Imageshack via Reddit]
This BMW owner decided he'd like his BMW 335i to be white rather than black, so he found a shop to wrap his bimmer in 3M shiny white tape. OK, so paint jobs aren't exactly dead yet, but it seems more and more people are choosing to wrap their metal rather than have it re-sprayed. We guess this way, if he feels like…
What does it really matter what Japanese automotive journalists think is the Japanese Car of the Year, or what the European journalists think is the European Car of the Year? Who even cars what Motor Trend says is their Car of the Year? We want to know what Playboy thinks. LBJ said it best, "So goes Playboy, so goes…