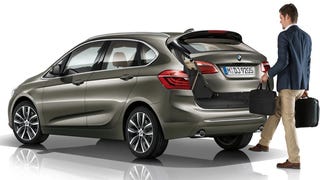 What, BMW owners who didn't buy their cars because they're the ultimate rear-wheel drive machine? Shocking! And they love the 2-series Active Tourer compact MPV? What's the weather like in hell today?
It's not a huge surprise there's some concern over the BMW 2-series ActiveTourer on the part of its maker. It's a front-wheel drive minivan that contradicts the traditional image of a BMW, as if that's stopped them from pursuing other car shapes before. Still, the 2-series Active Tourer isn't rushing over here.
We've already made a lot of fun of the BMW 2-Series Active Tourer. It's the Ford C-Max with a posh badge. That's not the biggest deal, though. This is the first front-wheel drive machine with a BMW logo on the front. Take a deep breath.
And now for some news that might send at least a few old-school Bimmer enthusiasts crying into their beers: BMW says they are planning at least five front-wheel drive cars, starting with the new 2-Series Active Tourer. The age of the FWD BMW begins in earnest.