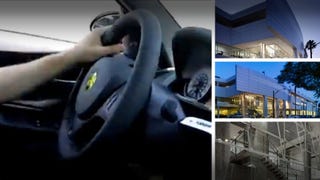 Last month two Pacific BMW dealership employees posted video of themselves dangerously flogging a brand-new BMW 1M at high speeds on residential streets on YouTube. It ignited a firestorm of hatred against the dealership in Bimmer fan forums and on Los Angeles local television news shows.
SportAuto's dance with the BMW 1M at Nürburgring produced a lap of 8:15. Which is OK, but not as fast as might be expected. The culprit: Too-firm suspension. Still, it beat out the RS3 and Cayman S. Not too shabby.
That's Alpine White, to be exact. A Driving-Fun photog caught several shots of a showroom-prepped BMW 1M somewhere in the Netherlands. Apparently it made it through the wilderness, and soon will be touched for the very first time.
If you want a BMW 1M, hopefully you don't want both nav and bluetooth. [Bimmerfile]