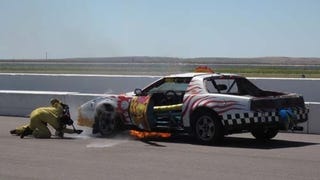 We were hoping— without much basis in anything resembling reality— that the L28ET-powered 3rd-gen Firebird would utterly dominate this weekend's LeMons race. Sadly, a roaring engine fire ended the aptly named FireKats' run at a major trophy.
When a team decides to build a 1956 Renault 4CV race car with mid-mounted VW Fox engine and BMW 1800 suspension, for 500 bucks... well, sometimes such an ambitious project isn't quite ready when the green flag waves.
I don't have time to shoot many photos of the cars while I'm sniffing out Cheatonium-239 components in LeMons cars, so I let my CHDK-hacked camera shoot a photograph every 15 seconds. Enjoy.
Somewhere between Denver and Kansas— actually, at High Plains Raceway in Colorado— the LeMons Supreme Court spent Friday checking alleged $500 race cars for possible cheating and/or general awesomeness. Some of the former, vast quantities of the latter!
As we get closer to the aptly-named B.F.E. Grand Prix 24 Hours of LeMons in Colorado next weekend, I decided to pay a visit to the team building the first-ever LeMons Marlin. All I can say is: Ho-lee shit!