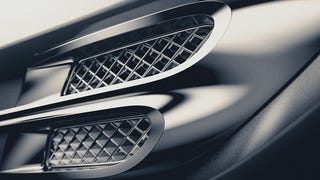 Bentley's been dripping out dribs and drabs of information about their new SUV for years now like an old man with prostate issues, and we finally have one new drab. It'll be called the Bentley Bantayga, and it'll have these sweet B-shaped vents.
I've just stumbled upon an #ancient #conspiracy of #international #theft and #stealing, and I'm about to BLOW THE LID OFF IT. It just so happens that Bentley's concept SUV from 2012 did not have styling influenced by the rest of the Bentley lineup, as you thought. It was something much, much more proletariat.
We already knew the Bentley SUV would get a plug-in hybrid version, but now it sounds like the overlords at Volkswagen might prescribe 3.0 V6 gas and diesel accompaniments to electric power, not a screaming "6 & 3/4 liter" V8.
Bentley's as-yet-to-be-named new SUV is dribbling out in drips and drabs, because that's apparently Just What Manufacturers Do These Days, presumably. But from this light (get it? It's a pun! Because it's a video examining light, and it's also light on details) teaser video, it looks like the design is all set.
Bentley says that by the end of the decade, at least 90% of their production will be available as a plug-in hybrid, starting with the Bentley SUV in 2017. Their concept for it is all about copper and earth-twisting torque.
The Bentley SUV might be a shanda, but it's coming whether you like it or not. Bentley is well intent on serving the markets in China and Dubai, the Chinese and the Emiratis want an SUV so that's that. A little less likely, though, is the recent rumor that Bentley could be shoving a diesel engine in there.
This is the Morning Shift, our one-stop daily roundup of all the auto news that's actually important — all in one place at 9:00 AM. Or, you could spend all day waiting for other sites to parcel it out to you one story at a time. Isn't your time more important?
Stephen Colbert used to ask liberals if George W. Bush was a "great president" or "the greatest president" as sort of a taunt. A few days ago, Bentley unveiled the Bentley EXP 9 F SUV concept-soon-to-be-production-model. So now, car fans, we ask you: Is the Bentley SUV a great idea or the greatest idea?
The brutal reality of the modern automotive market seems to have sadly won another round over tradition and good taste: Bentley just unveiled its long-rumored SUV concept, the curiously named EXP 9 F, at the Geneva Motor Show. Footballer wives rejoice!
Ferrari wagon-izations and hypercars bathed in magnetizing yellow are just a couple hints the Sultan of Brunei is perhaps the most Jalopnik head of state in the whole world. Like us, he seems to have a maddening obsession with odd cars. However, what sets him apart is his seemingly unending pot of money with which to…