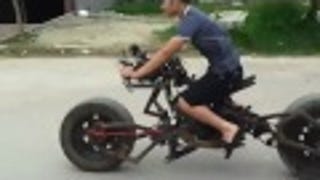 You've seen Anne Hathaway astride the popular, two-wheeled Bat conveyance — the Batpod. Now watch her stunt double demolish a movie camera (IMAX?) while filming an action scene for the third movie in director Christopher Nolan's Bat-trilogy. Oof. No breakfast burrito for her.
Universal Designs just unveiled their Iron Man motorcycle leathers. But it's not the first time they've gone the superhero-aping route, they've also made a protective suit to look like Batman. Kinda cool, but mostly incredibly dorky.
When The Dark Knight hit theaters in 2008, everyone loved Batman's Batpod, an outrageous, nearly undrivable motorcycle with a bad attitude. Someone even built one and put it up on eBay. Forget that. Here's how to make your own.
In a move we're assuming the Joker will be unable to duplicate in "The Dark Knight", reader Erich caught the intimidating new Batpod up close and personal on the set of a photoshoot and snapped off a couple pics of his own. While the two-wheeled cohort of the Tumbler probably elicits pleas for mercy from its riders,…

Our sister site obsessed with all things gadgets just hipped us to the new trailer for the new Batman movie. We must say, it's got a plethora of different action shots of new Batty vehicular goodness. Whether it's the Tumbler or the BatPod or even Joker's crazy truck, there's a lot of transportation options in the…