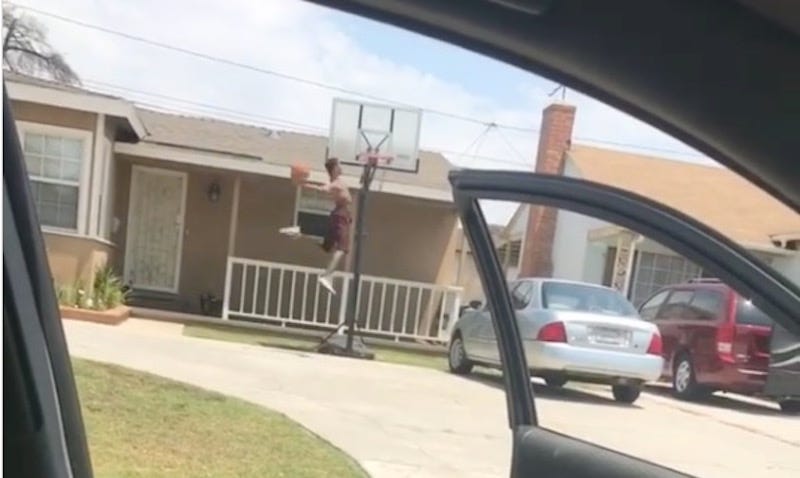 Are sports games not your thing? Or, perhaps, are you too disappointed with the world around you to even pay attention to them—or anything else, really? This guy, too. Things appear to be so bad, in fact, that he deliberately brought in the owner's manual for his Volvo and read it during a basketball game.

Every team wants the perfect draft pick. It's a deceptively simple-sounding goal that haunts every executive in sports, because they are being asked to do the nearly impossible—predict what human beings will do. Sure, every few years a player like Andrew Luck or Bryce Harper comes along who simply can't fail (even…
While looking through the New York Times Magazine spread on Dwyane Wade, the Miami New Times blog wondered what exactly was on Wade's bookshelf in one picture. It turns out he has a fair collection of muscle car literature.
Five-foot, eight-and-a-half-inch-tall Formula One world champion Lewis Hamilton tweeted this picture of himself standing next seven-foot, six-inch-tall Yao Ming. Strangely, it's not the first time an NBA center made an F1 driver look like a toy.
The Denver Nuggets' Chris Andersen has joined Shaq and purchased one of the largest SUVs on the planet, the 6.5-ton SportChassis P4XL. Birdman's modified his with a chrome grille and 22.5" rims. [CelebrityCarz]
The '79 Volkswagen Rabbit (that's a Golf to you shifty-eyed foreign types) probably didn't accelerate very rapidly with Mr. Chamberlain aboard, what with its 71-horsepower engine and all. But it has enough headroom- somehow- to accommodate a 7-footer. Wait, did we say 71 horsepower? Make that 48 horses for the Diesel…
Now that we've found this Zapruder-esque film, we know it is possible for a white man to jump clear over a corvette and dunk a basketball. Of course, we've no idea why he'd do such a thing — we at least now know it can happen. Woody Harrelson be damned.