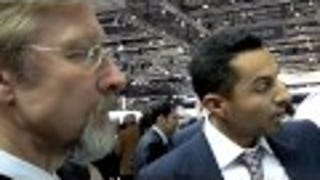 In what's already being heralded as the "Chilla in Geneva," infamous BMW designer Chris "Big Butts" Bangle tussled with Jason "Cassius" Castriota over the design of the inspired-by-jets Saab PhoeniX. Rhetorical fists fly as Bangle angles to flame Castriota's surfaces.
A study by German researchers speculates a preference for round-and-proud cars indicates a subconscious fear of sharp, dangerous objects.The desire for boxier designs arises when we're bored with safety. None of this explains the appeal of the Bangle Butt. [LiveScience]
Chris Bangle, polarizing and iconic BMW chief design honcho, is quitting "to pursue his own design-related endeavors beyond the auto industry," the German carmaker said Tuesday. A gallery of "Bangle Butts" below the jump.