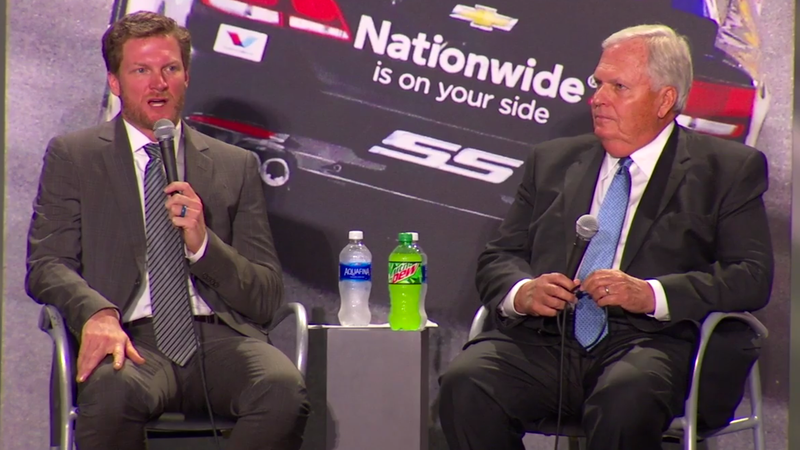 Dale Earnhardt Jr. is no stranger to getting hurt in the race car, but last year's long concussion recovery opened his eyes to just how tenuous his health is as a racer. So, he announced today that he was retiring from the NASCAR Cup Series on his own terms while he still can make that announcement on his own.

One of the biggest stories of last year's NASCAR season wasn't on track, but rather, about who was missing: Dale Earnhardt Jr. sat out the last half of the season recovering from a concussion. Unlike other series whose sports rhyme with "schmootball," NASCAR actually beefed up their concussion protocol after last…
Dale Earnhardt Jr. has been medically cleared to return to NASCAR after a test session at Darlington Raceway, the series announced. Earnhardt sat out the last half of 2016 to recover from a concussion, and will return to competition at the Daytona 500.

Sidelined NASCAR Sprint Cup driver Dale Earnhardt Jr. spoke during NBCSN's pre-race show last weekend on his continued recovery. Earnhardt has been sitting out since July due to concussion symptoms. The worst part, for someone whose life revolves around racing, has been the lack of purpose.

Today, Hendrick Motorsports announced that driver Dale Earnhardt Jr. will be out for the rest of the 2016 NASCAR Sprint Cup season. Doctors have not cleared him to return to racing due to his symptoms. Drivers Alex Bowman and Jeff Gordon will continue to split fill-in duties for Earnhardt in the No. 88 Chevrolet.
Doctors narrowed down the likely cause of NASCAR driver Dale Earnhardt Jr.'s concussion to a crash on June 12 during the Sprint Cup race at Michigan. Today, his Hendrick Motorsports team announced that Jeff Gordon will continue to fill in for the next two races to allow Earnhardt to continue recovering.

Gordon's back, back again. Gordon's back, tell a friend. Beloved four-time NASCAR Sprint Cup champion Jeff Gordon is coming out of retirement to drive Dale Earnhardt Jr.'s car at Indianapolis and Pocono while Earnhardt recovers from concussion-like symptoms.

Did you miss Jeff Gordon's farewell tour last year before he retired from driving in NASCAR? Well Sunday, Sunday, Sunday!!!, July 24, you may get your chance to see Fox Sports' star commentator back the car. Either way, he better deliver the goods on his in-car commentary, given his new post-retirement gig.

Dale Earnhardt Jr. will sit out from racing for an indefinite period of time after experiencing concussion-like symptoms, per a Hendrick Motorsports team announcement made this afternoon. Earnhardt says he's focusing on recovery for the time being and the team hasn't set a timeline for his return.

Few things are more dangerous in racing than your car dying on track in the middle of a turn. You're probably going to get hit unless the car starts right back up. It's just a matter of when and how hard. I took a hard hit in February and then spent three hellish months recovering from a concussion.

On Christmas Day, Sony Pictures Entertainment will release Concussion, a film that will almost certainly be very bad. As we've already noted, the film—starring Will Smith as CTE researcher Dr. Bennet Omalu—suffers from significant issues, both in theory and practice. (When the film studio's lawyers call for the film…