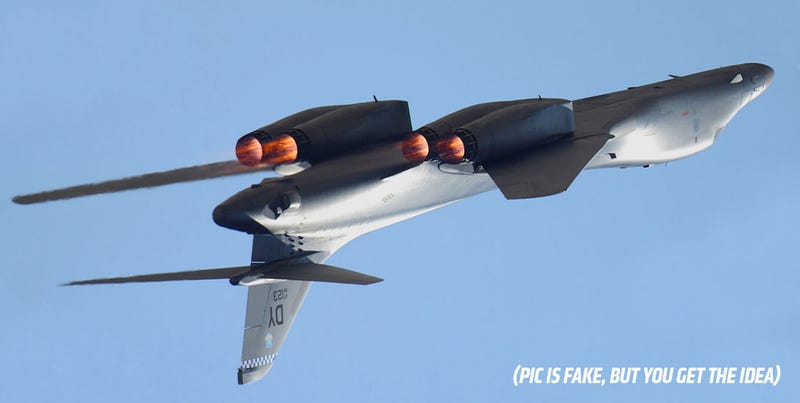 MaDill Air Force Base held an open house last weekend and visitors met the B-1B "Bone" in spectacular fashion. The jet made a high-speed pass over the crowd, hit the afterburners and executed not one, but two consecutive rolls as it climbed away. The experience must have been magical to behold judging by the video…
High above the battleground of Ramadi, Iraq, B-1B Lancer bombers circle like vultures, waiting for targeting information and using their own keen eyes to locate potential enemies to destroy. It is just another reminder of how a bomber that has had a tough time finding its identity has turned into an arsenal ship of…
When one Twitter user wrote that they were cowering in a Syrian pepper field, waiting out the weapons of ISIS while an American B-1B Lancer lobbed crushing explosives at them from the sky, they weren't kidding. Here's video of that very B-1 doing its thing over the town of Kobane.
The Middle East woke up to alarm this morning, as the government of Turkey announced that the Syrian town of Kobane was on the verge of falling to Islamic State fighters. The US Air Force showed up to back up Kurdish defenders in response, and one guy was on the ground to livetweet the whole thing.
One of the US' ultra-expensive B-1B not-quite-stealth bombers crashed in rural Montana this afternoon. AP reports that the four crew members ejected before the crash and survived with some injuries.