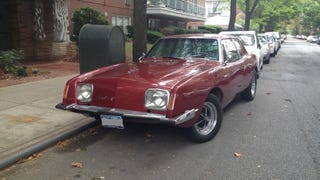 Welcome to Little Car in the Big City, where I highlight fascinating cars I found walking around a town that is known for being bigger than everything else, but where every car is fighting to stand out: New York, New York.
If you missed your chance to purchase the personal Studebaker Avanti of the famed industrial designer Raymond Loewy last December 11th, you'll have another chance next month. It's not the same car, but it is another Avanti owned by the man who designed Studebaker's automotive swan song.
If bongo solos and Studebakers are your thing, you are guaranteed to enjoy this week's vintage Car and Track road test of the 1969 Avanti II. Even If bongo solos and Studebakers aren't your thing, chances are you will still enjoy Bud Lindemann's review of the second coming of the Avanti.
The final years of Studebaker saw increasingly desperate attempts to claw back relevance from aging platforms and borrowed engines. Take this prototype Avanti fastback and sedan as examples. Actually, please, take 'em. They're burning our eyes. [Hemmings]
There's no escape from Orange County (yet), because we're heading down the 405 a ways and getting off in Laguna Hills. Laguna Hills is the relentlessly stucco-and-cul-de-sacs home of the Leisure World retirement community, where all manner of original-owner old cars may be seen... gathering dust. OC-based Vance shot…
Maybe you passed up Jenna Jameson's Lamborghini, and Lindsay Lohan's SL65 left you cold. Well, forget about those pseudo-celebs' cars, because we've found Alice Cooper's Studebaker for sale! Avanti purists might come after you with the nearest blunt instrument when they see the modern Corvette 350 under the hood...…
The majority of voters felt that an eternity spent wrenching on a pair of Willys Station Wagons would be preferable to eternity spent with a '58 Pontiac/'62 Mercedes-Benz combo, according to last Friday's Choose Your Eternity poll. That's fine, but what if you'd prefer endless toil on a hopeless challenging fast car?…
Since we're in a Studebaker mood today, let's see how the doomed South Bend automaker tried to pitch their products during their last year building cars in the United States. You can get a flat floor and lots of rear seat room in the Lark, or the fastest production car in the world when you got the Avanti. What's it…
One great thing about Alameda is you never know what kind of cars you'll find parked on the street. We've seen everything from a 1937 Cadillac to a Unimog in this series, but this may just be my favorite find yet. Yes, it's a Studebaker Avanti. A primer Studebaker Avanti, no less. When I spotted that distinctive…
One can't help but back Raymond Loewy. Being bloggers, we're generally polarized types this good, that bad, ad infinitum and/or end of story. And while Loewy deserves a more serious critique than we can offer here, the man designed things that inspire us to this day. From cola bottles to the Studes that dominated the…
Avanti fans will have to shell out at least $61,950 to get behind the wheel of a new old Avanti, the former Studebaker coupe born from a few Raymond Loewy pencilstrokes back in 1961. A new partnership between the reborn Avanti Motors and Ford makes way for Avanti's new choice of engines, a 210 hp, 4.0-liter V6 in the…
Avanti Motors, which just a year ago was a light summer breeze from collapse, is aiming for a big comeback in 2006. The company says it will introduce new Avanti models as well as the Hummer-sized Studebaker XUV it unveiled at the Chicago auto show in 2004. That the market for Snuffy-sized SUVs is deader than a ham on…