CNBC's Erin Burnett calls GM "zombie" on Today Show. [CNBC]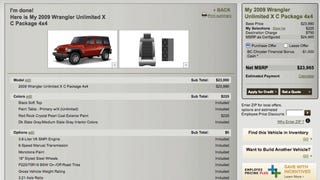 A man who took $25,000 cash to a New York-based Zanetti Jeep dealership to purchase a new Wrangler Unlimited was told Chrysler "no longer needs the money" and asked to finance instead. Really? Really.
We're not usually ones for jamming our thumbs into our own eyes. Be that as it may, we're going to start sifting through the full discussion text of the automaker not-a-bailout bill entitled: "To authorize financial assistance to eligible automobile manufacturers, and for other purposes." Sounds thrilling, doesn't it?…
The CEOs of the not-so-Big Three made it to DC for committee hearings beginning today at 10:00 AM. According to Bloomberg's sources, GM and Chrysler execs are considering a pre-arranged bankruptcy (which we've already said is a good thing) as a last-resort of getting a multibillion-dollar government loan.
One of the first questions President-Elect Obama received at a major economic press conference held today related to the auto industry and, after stock comment about the importance of the industry and the responsibility of the government to assure it doesn't vanish, Obama makes the point they can't simply write a…
In attempts to tap their customer base for assistance in avoiding this Financiapocalypse, GM has emailed an unknown number of their product owners in an effort to get them to speak out to their local congressman regarding the pending bridge loan. We've intercepted one of these emails and have it posted below the jump.…
Barack Obama took time away from talking about his mother-in-law and a college football playoff system to talk about the automaker bailout in an interview on CBS' 60 Minutes. While admitting Detroit needs help, he said it's important to make sure it's conditioned on the stakeholders (labor, suppliers, execs) coming up…
MSNBC is reporting (UPDATED with video) President-current Bush has said he'll consider amending the $25 billion automaker low-interest loan guarantee program to allow the automakers to get the money right now and use it for whatever they need. The decision is being made because many economists say helping US…
Apparently the Department of Energy is really slow when it comes to writing checks, as the Detroit News now reports that Detroit automakers may not get their recently approved loan packages until mid-way through 2010. DOE spokesperson Healy Baumgardner said "there are a number of legal and administrative requirements…
After a nasty summer of sliding sales and eroding market share, domestic automakers are planning to lobby the US Congress for $50 billion in low-interest government loans. The companies claim the money would allow them to modernize plants and develop new fuel-efficient vehicles; ordinarily, automakers would have…