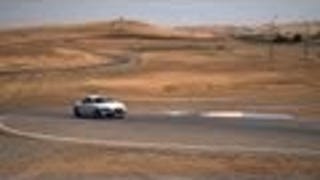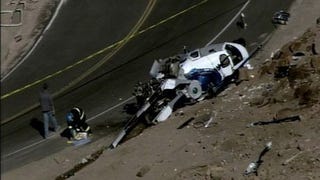 All four crew members injured during the helicopter crash on the summit of Pikes Peak yesterday were released from the hospital by last night. The crew was filming the driverless Audi TTS autonomous car when the crash happened.
Officials say a helicopter crashed on Pikes Peak during an Audi commercial shoot today, injuring four. The helicopter was shooting the Driverless Audi TTS. Medical crews are en route, but having difficulty reaching the victims by helicopter. UPDATE.
When you think of the Audi TT, particularly the Roadster, your head probably fills with poor-driving, poseur car stereotypes. The 2009 Audi TTS is supposed to turn that image on its head with a 265 HP 2.0-liter turbo.
As we continue to wait for the Audi TT-RS to debut, details and shots of the ÜberAudi roadster continue to appear, including these clear images of the Audi TT-RS captured by the KGP photographers. It has all the markings of an RS Audi, including the large front intakes and dual oval exhausts. As for motivation,…
Our long national nightmare is over — the men of the four rings have announced the Audi TTS will be coming to America. Yep, it won't be long now until the 2.0 liter turbocharged four with its 265 HP and 258 lb.ft of torque will be showing off it's 4.9 second zero to sixty times in the bougie neighborhoods of your fair…
Okay, apparently whoever is doing the new ads for the Audi TTS is phoning it in, cause we have no idea what this commercial is trying to tell us. Is the TTS meant for periodic jaunty high speed runs in dry lake beds only to return for the awesome scenery? Perhaps the vaguely homo erotic undertones and selection of…
We've now got the official scoop and pics of the Audi TTS Roadster & Coupe that broke through the embargo shields on Tuesday, sans that horrible watermark from Motorpasîon. Confirming what we'd heard, the Audi's will get the more potent 2.0-liter Turbo FSI four banger good for 272 horsepower. This will give them a…
Audi just revealed their gameplan for the Detroit Auto Show next month, and they're letting the world know they'll be seeing a "world first" and a "stunning concept car" from the Teutonic multi-ringed automaker. Our bet is we'll be seeing the Audi TT-S drop as the production car and our sources tell us we'll be…
A number of Audi fan forums across the internet have a spreadsheet showing up that purportedly shows a list of each and every product launch in Germany for 2008 (high-res shot here). Included in the spreadsheet are such noted notables as the Q5 and Q7 V12 TDI at the end of the third quarter, the Audi TT-S listed in…